NJ - Crumpet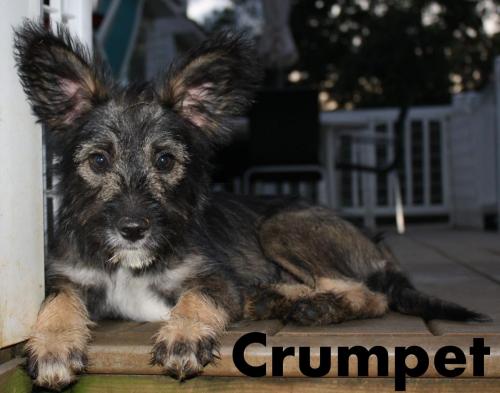 ADOPTED 2011
NJ - Nikki
ADOPTED 2011
Precious is a gorgeous 10 year old Doodle/Sheepdog/Mix
dumped at a kill shelter in Virginia. Oodles of Doodles wanted
to bring her to NJ to find her Forever Home when it was
discovered she was Heartworm positive, and then had breast
cancer, probably from years of breeding. Precious has spent her
remaining days going through treatment, loved and loving in her
foster home. She went to the Rainbow Bridge in 2012.
Meet Winn Dixie - Fostered in NJ - ADOPTED 2011
Yes, We know WD
isn't a Doodle or Poodle, but we couldn't leave him in that cage.
He is about 9 months old, a Husky Mix of some sort but he sat in
that cage for months waiting for someone to get him out of there.
We did!
MEET Josie - ADOPTED 2011
This is Josie as she
looked in the High Kill Shelter in Miami. Flea and tick infested and
undernourished, can't you just see the "gorgeous" under all that?
Josie was pulled yesterday by our good friend, Chrissy at Helpless
Furry Hearts Rescue in Florida. Oodles helped with vetting and listing her
and now she is HOME & Loved.
Meet Dodger - FOREVER FOSTER
Dodger is a 2
and a half year old, friendly and loving Goldendoodle who was surrendered
to Oodles of Doodles Rescue in NJ because his family did not have the time for
him any more. Kept crated up to 14 hours a day, Dodger has severe separation
anxiety but does well in a busy home with lots of other dogs. He will stay a Forever
Foster, forever.
Meet Cooper - ADOPTED 2011
Cooper is an adorable
7 month old Labradoodle. He is well mannered and well behaved but
had too much energy in his former home so was surrendered to
Oodles of Doodles Rescue. Cooper is now, HOME and LOVED!
MEET GUNNER in MA - ADOPTED 2011
Gunner was surrendered to Oodles of Doodles Rescue because
his family just didn't have the time to give him. He was underweight,
needed to be neutered and starved for attention. One of our
long time members, Mary H., who had volunteered before to foster,
was in the perfect place to help us save Gunner. Now he is HOME and LOVED.
Thanks, Mary!
Meet Bogo- Now Named Joey, saved from MDAS, FL - ADOPTED 2011
Bogo is a sweet, sad Doodle boy who was pulled from a high kill shelter in
Miami, FL. Bogo was injured and alone, with no-one to help him. Our rescue
friends, pulled him and we helped with the vetting and listed him on
Petfinder and this sweet boy is now, ADOPTED and LOVED.
now
Not one rescue was stepping up for him after days of…
Lily ADOPTED - August, 2011 -
From Death Row in a Southern Kill Shelter to Forever Home.
MEET GROVER OOOPS!!!
Daisy is finally here in NJ.
Kelly picked up from a very late night transport arrival
from Greenville Shelter, NC and
discovered...OOPS. Daisy is a boy!!!!
MEET GROVER! ADOPTED 2011

Just a baby. Maybe 2-4 months old,
Rosey was saved from a Southern Kill Shelter.
She is now HOME FOREVER.
Beautiful Litter of kittens found by our VP, Kelly. Oodles helped vet and
find them their own homes.
Meet Buffy
Buffy has had a very hard life. Just a bit over a year old, herself,
she gave birth to the Oodles of Doodles puppies. She is still in her
foster home, as she feels safe here. But is still feral and scared
to be touched. She will be safe here.
Tiny Tiffany - ADOPTED 2012

One day to live, HW+, Oodles brought her to NJ for
HW treatment and to find her one and only. Now,
she is clean, happy and LOVED FOREVER!
Meet Mr. Dooley: Schnoodle or Doodle or Wheaten?

ADOPTED and LOVED - 2011
Oodles got a call from a local NJ shelter to take this sad boy.
Meet Zoe in RI - ADOPTED 2011
Meet Zoey: ADOPTED 2011
Beautiful Zoey
was found as a
stray and pulled from
a high kill shelter in KY.
Meet Katie - ADOPTED 2011
Oodles of Puppies
Candee ADOPTED 2011
Dandy ADOPTED 2011
-…
Play Misty For Me
Meet Billie and Buster - ADOPTED 2011
Just
Look at
these
beauties!
They are actually
siblings from the same litter!
Meet Buffy & the Babies
OofD is getting puppies. Kelly loves puppies. So, we are getting puppies.
Meet Buffy, the mom, and her three little packages. ALL ADOPTED 2011
Meet Davie
Davie ADOPTED 2011.
Davie might have been a loved dog once, but his owners moved
and turned him loose and never came back for him. He was
staying in the neighborhood and someone fed him and sheltered him,
but that was about it. Now, Davie is HOME & LOVED Forever .…
Meet Bear
ADOPTED June, 2011
Bear is a surprise addition to this week's transport. This cutie pie
is just 2 and someone lost him and never came looking for him.
We'll Found him the very best Forever Home where he will be
loved forever and never left again.
Miss Mollie ADOPTED 2011.
This little girl will be looking for true love, maybe for the first time in her life.
Here's the first picture we have of her.
Notice the chain? That was what struck me the hardest. Mollie is an owner surrender
and she has spent all her life on that chain… Can you imagine? Now she is HOME & LOVED!
Meet Miss Mattie ADOPTED 2011
Fendi - ADOPTED 2011
Oodles of Doodles was contacted by a NJ Kill Shelter to
take a scared Mini-Goldendoodle boy who was was
dumped by his family for the reason of, "they had no time."
Eddie ADOPTED 2011
MEET DUFFY, now Pi ADOPTED by our own Kelly Allen 2011
Luke ADOPTED 2011
Dolly ADOPTED 2011
Tinker ADOPTED 2011
MEET DYLAN - ADOPTED 2011
This beautiful, gorgeous, wonderful Goldendoodle found herself in a KY kill shelter, found as a stray, dirty, matted and mis-labeled as a Sheepdog.
Seeing the beauty underneath all that mess, I tagged her for rescue for Oodles of Doodles, in NJ. Getting her to NJ turned out to be a three week endeavor as snow, cold weather and full transports prevented us from getting her to me.
Into a foster home for three weeks allowed her to be out of the shelter and cleaned up a little which must have been more comfortable for her, but she needed her own family and her own home.
I put her up on Petfinder and the applications were slow at first and then once she was cleaned up some and her beauty started shining through and the apps began coming, too.
Chanel's foster mom reported her to be shy, laid back and very sweet, possibly abused as she would hide when scared and jump at loud noises but would follow her around and was a true velcro dog to someone who showed love and kindness.
She loved the kids of the foster home and was fine with other dogs and cats. I knew she would easy to place but I really wanted to find just the right, perfect home for her so that she would never have to be afraid, again.
One app in particular, really struck me and I kept coming back to it as I went through the applications for Chanel. They had young children, mom was home all day and everything was perfect except for two things: Mom had allergies and their yard wasn't fully fenced, yet. They would be finishing it in the Spring but that was months away. The allergies would be harder to solve as Chanel was still in KY and we couldn't figure if she would be non-shed and hypoallergenic until she got here. After going back and forth, I decided to call this family and feel them out.
I spoke to Tina and found out they had been looking for their Forever Dog for over a year, putting in several apps but none panned out. One rescue even sent her a very terse email belittling her for the "faults" of her application and that hurt her quite a bit. The irony of that rescue doing that made me want to try to find this family a dog, even if it weren't Chanel.
When we finally were able to arrange transport, I called Tina and asked her how far she was from the transport pick up spot and surprisingly, she was only 15 minutes away. We made arrangements for her to meet us at the drop off for her to meet Chanel and see if there was any allergic reaction.
It was so cold the night of the transport. It was delayed about an hour because of snow in MD and Tina and Rob waited patiently with us until the van came in. Chanel came off, finally, after riding for 10 hours and though scared and nervous, smelling like a shelter crate and probably freezing, we took her into Petco to "see" and meet her properly.
Tina did something while we were in there that caused me to KNOW she was the right person to adopt this girl. Not knowing if Chanel would cause an allergic reaction, Tina rubbed Chanel all over, put her face in her fur, put her hands in her mouth and basically gave this scared, smelly girl a massage, all the while hoping the sneezes and hives would not arrive. They spent about an hour trying to get Chanel to make her allergies flare. Chanel took it all in stride and accepted it all.
Tina and Rob went home and I took Chanel home with me hoping I would hear from Tina very quickly. In the car on the ride home, I said to Danny, that I think they are the right one's for Chanel and kept thinking they would call and tell me to bring her back.
But they did call, first thing the next day. They wanted her...they loved her...no allergic reactions...could they come today...they were so excited, I said yes.
So, this great family, with allergies and young kids and an unfinished fence are adopting our girl. This sad, sweet, abused KY Belle is now HOME and her new name is Bella. She is adored and loved, finally. There will be no more sadness or abuse for her. She has her very own family.
Reply by Sue & the Crew on February 14, 2011 at 5:56pm

Reply by Lynne Fowler - Admin on February 14, 2011 at 6:08pm

SITE ADMINPermalink Reply by Jeannine, Gamine & Thalie on February 14, 2011 at 6:38pm

Reply by Susan D. on February 14, 2011 at 6:46pm

Reply by Lynne Fowler - Admin on March 29, 2011 at 3:18pm

Reply by Sue & the Crew on March 29, 2011 at 3:33pm

Reply by Lynne Fowler - Admin on March 29, 2011 at 3:42pm

Reply by Jeannine, Gamine & Thalie on March 30, 2011 at 9:40am

Reply by Lynne Fowler - Admin on June 23, 2011 at 2:24pm

Reply by Sue & the Crew on June 23, 2011 at 6:27pm

Reply by Lynne Fowler - Admin on June 23, 2011 at 6:31pm

Reply by Jeannine, Gamine & Thalie on June 23, 2011 at 7:41pm
MEET FLYNN - ADOPTED 2010
http://www.petfinder.com/petdetail/18035063
Flynn is a 3 month old, first gen. Labradoodle boy from a BYB (puppy mill) in PA. This sweet boy was adopted by his "breeder" to a family in New Jersey. He was returned to the "breeder" because he wasn't holding down his food and their vet said it would be an expensive surgery to fix an esophagus problem.
Flynn has only been with me for a few hours but in that time, he met my pack, played with some puppy chew toys that I found around the house and has eaten my homecooking several times and has had no problems. I started by giving him a few bites here and there and he held it down and came back for more. Just plain chicken, smashed peas and brown rice.
I went looking at the papers that came with him and the family was feeding Purina Puppy Chow. Could this be the problem? We will see. I have an appointment for Monday and some housetraining to do, then Flynn will be looking for his new Forever Family.
Posted November 27, 2010
My vet examined Flynn and looked at the vet tests that came with him and said that he does not present as a megasophagus dog. Both tests said "no blockage seen" and "Inconclusive." The vet thinks it might be an immature digestive system.
Over the month Flynn was with me, I eliminated corn from his diet, fed him a Premium Kibble softened in warm water, boiled chicken, brown rice, smashed peas, yogurt, pumpkin, crasins, ground turkey, fish oil and a holistic supplement for digestive upsets. In the first week he was here, he regurgitated three times (never threw up food). Once he was on a more wholesome diet, he had no more issues.
I began looking for just the right home and family for Flynn.
http://www.youtube.com/watch?v=nXKej9mxOP8&feature=player_embedded
- ENJOY!
Posted December 10, 2010
After going through the 20+ applications I received on Flynn, I found the most perfect family. They have another Labradoodle, a 13 year old Human Brother and a mom who is a nurse. She loves that I had started him on a holistic diet and plans on continuing it. The Dad is head over heels in love, as is the entire family.
Karen has reported that Flynn has not had one single incidence of regurgitation and already loves him so much. They feel like they won the lottery.
Have a great life, Flynn. We look forward to your updates in your happy family.
Reply by Susan D. on January 1, 2011 at 10:18am
His new family was gushing last night about how wonderful he is. I couldn't have found a better family for one of my dogs. They had a great app, wonderful references and a beautiful home. He will live his life, loved and happy. What more could I ask for? I will miss him, though.

Reply by

Lynne Fowler - Admin on March 31, 2011 at 7:53pm
UPDATE -
When I saw this little scruffy face in an email, I couldn't resist.
This little boy was in a kill shelter in SC and came up to NJ on a transport. I had a bit over a week to get ready for his arrival as he was put in quarantine, vetted and shaved before he would be put on the transport. I put out the Petfinder Listing, started receiving applications almost right away, and finally narrowed it down to one really great family.
Little Mister Elmo arrived in NJ after traveling 2 days being handed off from car to car to car and when I took him from his transport crate, he snuggled into me and my heart melted. I brought him home and my pack greet him with their usual exuberance and then they all went exploring our yard.
Elmo met his new family and everyone loved him and his cutie-pie face. He went home with his new human brother and sister and fur sister. His new mom and dad were also so thrilled with him and I was sad to see him go.
Be Happy, Elmo. Have a wonderful Life.
LINK to Elmo's Blog - http://www.doodlerescuecollective.com/profiles/blogs/elmo-has-gone-...
UPDATE Sept 25, 2010 -
Elmo's new mom called me today and couldn't be happier with her new boy. She said he is always happy, always wagging his tail and is starting to put on weight and know he is home.
Here he is with some of his new family, almost one month later.
November 22, 2010
Hi Lynne! Just wanted to give you an update on Elmo. He is becoming more beautiful every week as his fur continues to grow longer. He was a cowboy for Halloween and of course his sister Patches was a cowgirl. I will have my daughter send you pictures from her phone. He is an incredible jumper, so we have learned not to leave food unattended on the counter. Don't worry, He's not starving. He gets lots to eat and loves his bones. It was very sad in the beginning when we first gave him a bone. He just licked it. He had no idea what to do until he watched Patches. Now he's a pro! His personality is very loving and affectionate. He is always wagging his tail and loves to meet new people and new dogs. He LOVES to play fetch and can run like the wind. Unfortunately, he is very clumsy and often trips over his own feet or runs into Patches. He brings us lots of laughs and lots of joy. I hope that you have found many new homes for wonderful and deserving dogs like Elmo. Have a wonderful Thanksgiving! Melissa
Fostered by Lynne Fowler

MEET LICORICE! ADOPTED 2009 BY MEMBER TRACY
FOSTERED IN LINCROFT BY LYNNE FOWLER AND SURRENDERED BY HER OWNER, LICA CAME WITH A METAL PRONG COLLAR ON HER NECK. ONCE REMOVED, SHE LICKED LYNNE'S HAND AND HAPPILY PLAYED WITH THE PACK.

CONGRATULATIONS TRACY AND FAMILY!...
Lica Now:
Fostered by Lynne Fowler
Reply by Susan D. on August 30, 2009 at 1:06pm
thank you. She is such a love and she seemed to be starved for love and attention which she is getting plenty of and always will.

Reply by

tracy

on August 30, 2009 at 6:17pm