NJ - Dodger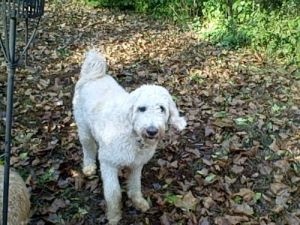 Golden Retriever, Standard Poodle [Mix]
Size: Large
Age: Adult
Sex: Male
Notes:
MEET DODGER - AVAILABLE - No Inquiries without Application, Please (Link Below) - FOSTERED IN MIDDLETOWN, NJ AREA - AVAILABLE IN CENTRAL NJ - Must be another playful dog in the home, Fully Fenced Yard and NO very young children. Experienced Adopter Only.
Dodger is a young, happy-go-lucky, 2 year old, friendly, quirky and loving Goldendoodle who was surrendered to Oodles of Doodles Rescue in NJ because his family did not have the time for him any more. He is good with children but could knock over very young kids, so we are recommending NO YOUNG CHILDREN UNDER 6. He is good with leash walking and housebroken. He doesn't shed but does need to be groomed on a regular basis.
Dodger has medium to high energy needs and a FULLY FENCED YARD and ANOTHER BIG HAPPY PLAYFUL DOG(s), IS A MUST for daily exercise. Someone who is home all day and another dog as a playmate, is what we are looking for. He does not like to be alone, but will cry, not damage. He gets along well with most all other dogs, gets excited when he first meets other dogs, but does not fight. He listens to basic commands. Dodger has been neutered, he is utd on shots and a VERY sweet boy. We would like to keep him in the Central NJ area.
If you are interested, please fill out an application (Link Below). No urban/apartment adopters and No inquiries without application, please.
Adoption Donation $425
THIS IS AN OODLES OF DOODLES, INC. ADOPTABLE DOG or RESCUE or OWNER ASSISTED REHOME DOG. Please DO NOT confuse us with any other "Doodle Rescue." We are Independent Rescuers working as a "Collective," to save Poodle-mix dogs from kill shelters and other situations. ALL Applications are sent to the Foster, Rescue or Family who has the dog and who checks references, does home visits and conducts interviews. Please DO NOT send inquiries. PLEASE, WE ARE ALL VOLUNTEERS and CANNOT ANSWER OTHER INQUIRIES without having an application on file. IF YOU ARE A MATCH FOR THE DOG, YOU WILL BE CONTACTED. Thank you for understanding.
VISIT OUR WEBSITE at http://rescuecollective.com. We have been Listing & Rescuing Oodles since Jan, 2009. After a reorganization in May, 2010 we have renewed focus and goals. We are a 501(c)(3) Non-Profit and your donation is tax deductible.
All Oodles of Doodles dogs are located in foster or family homes across the North American Continent. We do not have a central location. THE LOCATION GIVEN IN THE DOG'S NAME IS WHERE HE or SHE IS LOCATED. Unless otherwise stated, WE DO NOT ADOPT, SHIP OR TRANSPORT OUR DOGS AWAY FROM THE AREA THEY ARE IN. WE DO NOT ADOPT TO URBAN/APARTMENT ENVIRONMENTS. WE REQUIRE FENCED YARDS (an e-fence is not a secure fence). PLEASE DO NOT APPLY IF YOU DO NOT MATCH WHAT WE ARE ASKING FOR. IT ONLY WASTES OUR VALUABLE TIME, AND YOURS.
If the listing is given as ADOPTABLE, than the right home has not been located yet and the dog is still available for adoption. Please fill out an application and not send inquiries.
CLICK HERE FOR OUR ONLINE APPLICATION. Please specify which dog you are applying for in the space provided. Incomplete applications will not be forwarded.
More about NJ - Dodger
Spayed/Neutered • Up-to-date with routine shots • House trained • Primary color: White or Cream • Coat length: Medium
Oodles of Doodles, Inc.
Lincroft, NJ
No Phone Calls. Please Email. oodlesofdoodles-rescue@yahoo.com
This page can be found at the following web address: http://www.petfinder.com/petdetail/20675535